Headline:
Hupha-Dosin
Category: Products » Oral powders, |
Read: 3450 |
Print
| Text size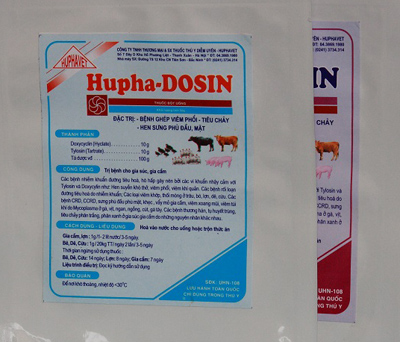 Classification: Powder - Drug Package
Ingredients:
- Doxycyclin (Hyclate).
- Tylosin (tartrate).
- Excipients.
Uses: Treatment of asthma trouble breathing, pneumonia, inflammation of the trachea. The gastrointestinal disorders due to infections; The type of arthritis, nail rot in cattle, pigs, goats and sheep. The disease CRD, CCRD, swollen face early match, khec, sprinkled bird beak, sinusitis, arthritis due to Mycoplasma airbags in chickens, ducks, geese, quail, turkey. The typhoid fever, haemorrhagic septicemia, diarrhea white, green manure of cattle and poultry of different reasons
Updated: 11/04/2014
Source Huphavet
Other products...