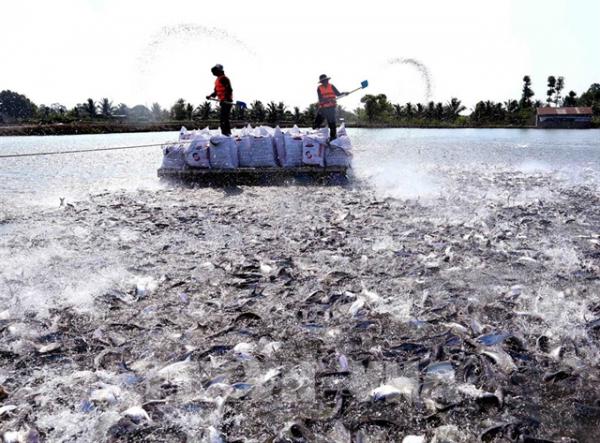 A tra fish farm in Chợ Mới District (An Giang) cooperates closely with various businesses. — Photo bnews.vn
HÀ NỘI — Tra fish prices have hit a new high since 2019, but insiders are concerned that high prices do not bode well for farmers.
Trần Văn Hùng, general director of Hung Ca Company Limited, said that it had been the case for many years that farmers boosted production too much when they saw prices rising. Consequently, prices normally slumped heavily after reaching record highs.
The fish price peaked in 2018 and led to a rush on production expansion. About one year later, the price began to drop sharply in price due to overproduction, from VNĐ33,000 (US$1.44) to VNĐ19,000 per kilo, causing losses to farmers.
The general director believes that some firms were probably manipulating prices to tempt farmers to produce more, thereby benefiting from the ensuing oversupply.
"Firms benefit from falling prices since they purchase using deferred payments," he explained.
Nguyễn Ngọc Hải, a farmer in Cần Thơ City, estimated that only around 10 per cent of farmers could turn the rising prices to their advantage. The rest have to wait for their fish to mature.
Unfortunately, market prices will probably fall when the fish reach a suitable size for sale, placing these farmers at a disadvantage.
"VNĐ30,000 per kilo is not high enough to be worth the effort, but I'm concerned that the prices might fall soon," he said.
Another farmer Tuấn in Đồng Tháp Province shares the concern.
Tuấn said he would sell about 1,000 tonnes of the fish to China at VNĐ30,000 per kilo. With farming costs of VNĐ25,000 per kilo, the batch is expected to earn VNĐ5 billion, enough to offset his previous three-year losses.
However, the farmer is worried that fish feed prices have risen by 40 per cent, to VNĐ14,000 per kilo. Fingerlings have doubled in price to VNĐ60,000 per kilo.
That means he is spending VNĐ27,000 on every kilo of tra fish harvested next season.
"If tra fish prices drop next season due to overproduction, farmers will probably have to sell their fish at a loss," he said.