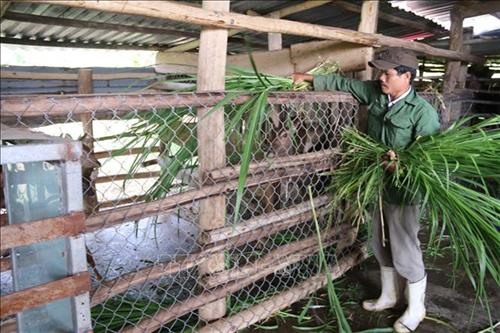 Lâm Quang Long tends his deer in Bà Rịa – Vũng Tàu Province's Mộc Xuyên District. – VNA/VNS Photo Hoàng Nhị
Viet Nam News / HCM CITY – Breeding deer to harvest their antler velvet, the soft skin that grows on top, is enabling farmers in Bà Rịa – Vũng Tàu Province's Xuyên Mộc District earn a steady income.
Nguyễn Tiến Kỳ, who has three male and two female deer in his farm in Xuyên Mộc's Hòa Bình Commune, said he harvests around five kilogrammes of velvet from the male deer annually.
With the velvet fetching VNĐ15 million (US$644) a kilogramme, he earns a profit of VNĐ60 million ($2,570) a year.
Kỳ has been raising deer since 2011.
The animals are easier to breed than oxen, buffaloes or goats, eat mostly grasses and leaves, and get few diseases, according to local farmers.
Male deer begin to grow antlers when they are two years old. A mature animal can produce three to five kilogrammes of velvet a year, with farmers normally harvesting it after 45 -50 days' growth.
The velvet is used in traditional medicine as a tonic to improve health.
Raising deer for velvet fetches higher incomes than other animals, and many farmers have steady incomes, according to the district's Farmers Association.
Lâm Quang Long, owner of the Ba Long deer farm in Xuyên Mộc's Bình Châu Commune, earns VNĐ350 million ($15,000) a year from his nine male deer.
"Breeding deer has helped my family escape poverty and earn a steady income."
In 2013 Long used his savings and borrowed money from relatives to buy five deer at a cost of VNĐ200 million ($8,600).
But since they produced only 0.5-0.7kg of velvet a year, he decided to sell them and buy four male and two female deer of better quality.
His herd has now grown into nine male and four female animals besides three fawns.
His farm is now a place for people to come from inside and outside the province to buy antler velvet.
Besides breeding deer, Long also breeds pheasants, pigeons and turkeys and sells other local farmers' agricultural produce on his farm.
Trần Văn Phương, chairman of the district Farmers Association, said his association creates favourable conditions for local farmers to sell their produce.
It also encourages them to produce safe, high-quality products and introduce local products to popularize them.
Authorities also collaborate with tourist companies to bring tourists to farms, thus helping popularise local products, he said.
In Xuyên Mộc, 12 households are currently raising 60 deer for their velvet, according to the Farmers Association. – VNS