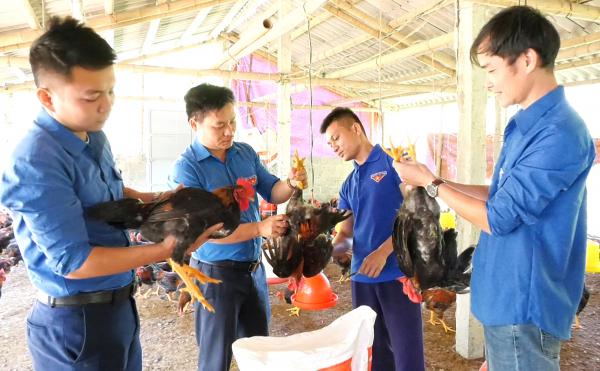 Young visitors learn how to raise Lang Chanh chickens according to the model developed by Luong Van Duong. Photo: N. Thoa / Tuoi Tre
Luong Van Duong, a young man from the Muong ethnic group, has been searching for a solution to make a chicken breed from his hometown known to the public and eventually become a special brand in Vietnam.
Although it is a popular chicken breed from Lang Chanh District in Thanh Hoa Province, located in north-central Vietnam, this kind of poultry is still unknown to many people.
As the secretary of the youth union of Khu I Village in Giao Thien Commune, Lang Chanh District, Duong became a pioneer in finding an innovative way to raise this breed of chicken and made it a local delicacy.
After gaining a ton of experience raising this chicken breed over the past six years, Duong established a cooperative for raising Lang Chang chickens partially outdoors.
The cooperative brings together fifteen chicken farms with up to 15,000 birds per flock.
With this, Duong aims to expand chicken farming and build a unique brand name for the local chicken, as well as provide the market with high-quality chicken products.
In short, his solution combines farming chickens in cages with raising them outdoors for a period of time before selling them.
After being raised in fenced areas for three months, the chickens are released on the hills where they can run free to find food outdoors.
This way, the quality of the chickens improves significantly, and they acquire a special taste.
Although Duong has faced headwinds and suffered great losses for some time in the past, he did not dissolve the cooperative because he was determined to establish the brand name for his hometown's chicken.
As the secretary of the youth union, Duong has tried to find his own way to overcome obstacles.
He continues and shares his experience with anyone who wants to learn more about raising Lang Chanh chickens.
The Ho Chi Minh Communist Youth Union of Giao Thien Commune organizes trips to typical chicken rearing models for young people who want to learn from chicken farmers.
"I do not hide anything from them, from choosing the best breeds, caring for the chickens, and preventing diseases to installing a system to feed them automatically," Duong said.
"I share everything I can in the hope of helping them avoid failures I once encountered and be able to ensure success once they start."
The Youth Union of Giao Thien Commune considers it an important task to provide young people with information and knowledge about chicken farming.
In this way, they can help them make a career as the Lang Chanh chicken breed can grow healthily in their community.
The union hopes to build an associated chain for raising Lang Chanh chickens over time, which will enable the local youth to have a stable career in their hometown.
The COVID-19 pandemic has finally subsided, the chicken flocks are growing healthily on Duong's farm, and his efforts have paid off after he sold them in time for the Lunar New Year festival last month.
However, the most important thing for the young man from the Muong ethnic group is that the Lang Chanh chicken has gained popularity.
More and more people have heard of the chicken's brand name, so Duong is very confident that it will be known nationwide in the coming years.
Tuoi Tre News