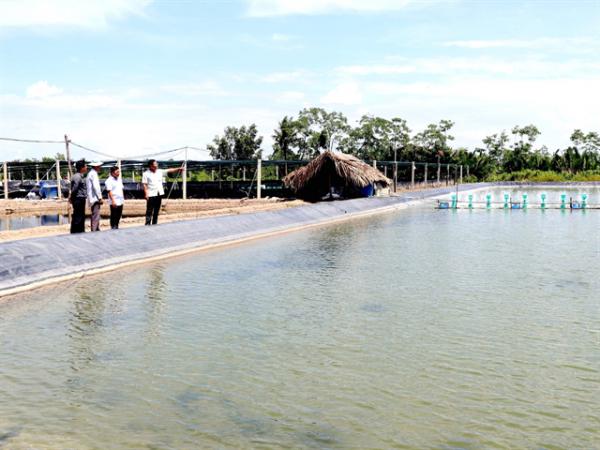 Breeding shrimp under the super-intensive farming method in Cà Mau Province's Cà Mau City. — VNA/VNS Photo Kim Há
The Cửu Long (Mekong) Delta province of Cà Mau plans to maintain its shrimp farming area at 280,000ha between 2021 and 2025, with an increased output.
CÀ MAU — The Cửu Long (Mekong) Delta province of Cà Mau plans to maintain its shrimp farming area at 280,000ha between 2021 and 2025, with an increased output.
The province, which is the country's largest shrimp producer, aims to produce about 225,000 tonnes of shrimp this year, up 15,000 tonnes against last year, according to its Department of Agriculture and Rural Development.
Châu Công Bằng, deputy director of the department, said that intensive and super-intensive farming methods as well as advanced farming techniques would be used to increase yield and profit for farmers.
To develop sustainability, the province's agencies have instructed farmers in environmentally friendly techniques.
Many shrimp farmers using super-intensive farming methods have built ponds to filter and treat waste water before releasing it into the environment.
Local agencies have stepped up inspections of shrimp breeding in unzoned areas and the treatment of waste water, and have strictly penalised violations.
Last year, the province had 2,800ha of super-intensive shrimp farming areas, up 12 per cent against 2019. The farming areas had a success rate of 85 per cent and a yield of 40-50 tonnes per hectare a crop.
The province plans to develop super-intensive shrimp farming areas to 3,200ha this year. Most of these areas are located in Đầm Dơi, Cái Nước and Phú Tân districts and Cà Mau City.
With its three sides bordering the sea and its many mangrove forests, the province has advantages for shrimp-forest farming, shrimp-rice farming, extensive farming, intensive farming and super intensive farming.
The province has 280,000ha of shrimp, accounting for 40 per cent of the country's total shrimp area.
Many shrimp breeding areas have been granted international standard certificates such as global good agricultural practices (GlobalGAP), Best Aquaculture Practices (BAP) and Global Aquaculture Stewardship Council (ASC).
The province has 30 companies processing shrimp for export. The companies have a total processing capacity of more than 250,000 tonnes of shrimp a year.
Biological shrimp farming
Environmentally-friendly shrimp farming models like shrimp-forest and shrimp-rice farming models produce biological shrimp as shrimp eat natural food and shrimp breeders do not use chemicals.
Under the shrimp-forest model, shrimp are bred in mangrove forests. Under the shrimp-rice model, farmers grow rice in the rainy season and breed shrimp in the dry season on the same fields, or intercrop shrimp breeding and rice cultivation at the same time on the same fields.
The province has nearly 34,000ha of shrimp-forest farming, and more than 20,000ha of that figure are certified as biological shrimp.
The department plans to increase the area for certified biological shrimp to the rest of the shrimp-forest farming area this year.
Bằng, deputy director of the department, said biological shrimp is one of the province's key products under its agriculture restructuring plan.
The co-operation between farmers and companies has increased shrimp value, he said.
The breeding of biological shrimp has increased farmers' income, and shrimp companies now have clean and high-quality shrimp for export.
"The environmental protection activities have helped to confirm the role of biological shrimp," he said.
The province has dozens of thousands of hectares of rice - shrimp fields which are also sources for producing biological shrimp.
In Thới Bình District, which has the largest area of giant river prawn bred under the shrimp-rice model in the province, many farmers are breeding shrimp and growing rice on the same rice fields at the same time.
Phạm Văn Khải, who cultivates giant river prawn and rice on a 1.3ha field in Thới Bình's Bạch Đông Commune, said giant river prawns are intercropped in organic rice fields that grow high-quality ST speciality rice varieties without pesticides or other chemicals and only a small amount of organic fertiliser.
"Giant river prawns eat natural food in rice fields, so the prawn has a specific flavour and firm meat," he said.
When saltwater intrusion occurs early and rice dies because of saline water, his family plants bulrush to replace dead rice, which provides a habitat for giant river prawns.
Bulrush is grown for the inner portion of its lower stalk which is used in many dishes like fresh salads, pickles and hotpots.
Farmers in the district had harvested about 30 per cent of the giant river prawn area as of mid January, according to the district's Bureau of Agriculture and Rural Development.
Giant river prawns are purchased at fields for VNĐ110,000-130,000 (US$4.7-5.6) a kilogramme.
Nguyễn Hoàng Lâm, head of the bureau, said after deducting all production costs, farmers can earn a profit of VNĐ20 million ($870) per hectare a prawn crop. — VNS