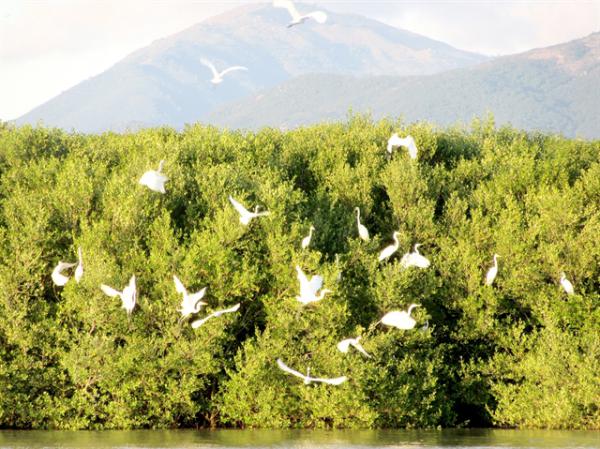 A part of the mangrove in Đầm Nại (Nại Swamp) in the southern Ninh Thuận Province, an area of focus for biodiversity conservation. — VNA/VNS Photo
Hoàng Thị Thanh Nhàn, deputy director of the Department of Nature Biodiversity Conservation, speaks to Vietnam News Agency (VNA) about measures to be taken for wildlife conservation.
The wildlife trade in Việt Nam remains complicated. How does this affect biodiversity in the country and its international commitments?
The illegal wildlife trade and consumption is one of the causes that leads to biodiversity loss, especially the decline of wildlife species worldwide and in Việt Nam. Any species is an important link in the ecosystem, and the disappearance of one species could affect the balance of nature.
Việt Nam has made multiple commitments concerning wildlife protection, such as the Convention on Biological Diversity, the Convention on International Trade in Endangered Species of Wild Fauna and Flora, the Ramsar Convention on wetlands of international importance, especially as waterfowl habitats; as well as many multilateral and bilateral agreements relating to wildlife and biodiversity protection. Once we have entered such commitments, we must fulfil them.
In reality, illegal wildlife trade and consumption in Việt Nam creates a negative image of our commitments. There are still current views from the world that Việt Nam is a spot for wildlife consumption and even a transit point for these activities.
What specific goals, missions and solutions are included in the National biodiversity strategy to 2030 to conserve wildlife, especially endangered species?
The protection and conservation of wildlife, especially endangered wild species, is a focus of the National biodiversity strategy for 2030. The strategy also sets out goals for effectively conserving scarce and endangered wild species. It also includes specific indicators, for example, by 2030, the situation has to be improved for at least ten endangered species, and none of the endangered will go extinct.
The strategy also states the key tasks to fulfil and promote wildlife conservation, especially endangered species, such as: investigating, assessing and updating and announcing the list of rare and endangered species for conservation measures.
For example, there could be an improvement in establishing a system of biodiversity protection facilities, networks of rescue centres for wild species, and taking steps to reduce the threat to wildlife (such as controlling the hunt, trade and consumption of wildlife, and fostering and releasing these animals back into the wild).
To further conserve wild birds, especially migratory birds, Việt Nam Environment Administration implemented the Prime Minister's Directive No. 04 CT-Ttg dated May 17, 2022. Could you elaborate on this directive?
This is the first time we have a directive from the Prime Minister on protecting a group of species, in this case, migratory wild birds. The directive is issued in the context of widespread exploitation and consumption of these types of birds. The birds' migratory routes traverse through Việt Nam, so the country is responsible for protecting these wild birds.
The directive has given a comprehensive direction to mobilise all resources and to deploy measures to protect migratory wild birds, such as protecting the habitat, preventing intrusion into these habitats, protecting the stopping points in the migratory areas of endangered birds, protecting the flight routes; as well as other activities relating to controlling and preventing exploitation, hunt, trade, and consumptions of the birds, and eradicating illegal wild birds trading points.
In the future, what solutions from the Department of Nature Biodiversity Conservation will help aid conservation effectively?
We have created a relatively comprehensive legal framework for wildlife protection and conservation. However, there are still several points that are not realistic enough, especially those concerning the relationship between the conservation and use of wildlife. It is necessary to have a clearer policy in determining the species prioritised for protection.
In the current legal documents, it is still unclear which rare or endangered species, which are protection priorities, are allowed for breeding for commercial purposes. The Department of Nature Biodiversity Conservation's mission is to consult the Ministry of Natural Resources and Environment in developing regulations on biodiversity management and wildlife protection.
We are also reviewing the system of legal documents, aiming to propose amendments to the criteria, as well as the mechanism for managing and protecting wildlife, especially rare and endangered species that need to be prioritised.
In addition, there are still shortcomings in wildlife rescue with a limited rescue capacity, especially due to the lack of legal framework and technical instruction or resources for wildlife protection.
To carry out these tasks, our department is working with relevant agencies to have a thorough and comprehensive assessment of the current rescue activities and the operation of biodiversity conservation facilities.
From this point, we can make proposals and suggestions to create a legal framework that helps implement animal rescue, especially for wildlife. Our department is also working on a project that aims to enhance the capacity of conservation facilities, including wildlife rescue centres.
We will also work together with conservation organisations to determine the species that can be bred and released back into nature; actively communicating to raise awareness for relevant stakeholders; providing training for the staff of departments of natural resources and environment, the management boards of conservation areas, and law enforcement departments on the policies, regulations, and technical guidance in wildlife protection and rescue.
We also see that wildlife protection requires the active participation of State departments and many other stakeholders, including non-governmental and socio-political organisations, the private sector and the community.
We are all living on planet Earth, and all are responsible for building a healthy, sustainable environment to protect all lives on Earth. Being aware of the importance of natural, environmental and biodiversity protection, each individual needs to change their behaviours towards nature and the environment and biodiversity. — VNS