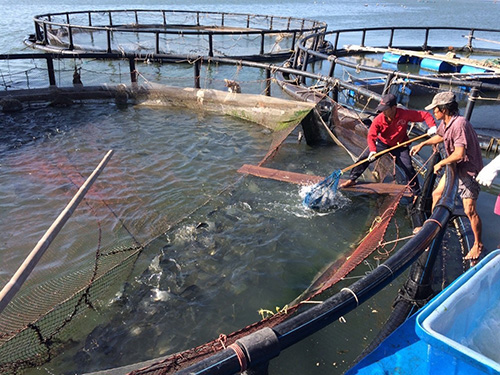 High-density polyethylene (HDPE) floating cages are used to breed fish on the Chà Và River in Bà Rịa-Vũng Tàu Province's Vũng Tàu City. – VNA/VNS Photo Hoàng Nhị
Viet Nam News / BÀ RỊA-VŨNG TÀU – Farmers who breed marine fish in floating cages in Vũng Tàu City in the southern province of Bà Rịa-Vũng Tàu are using new advanced farming techniques with good results.
The new advanced techniques are using high-density polyethylene (HDPE) floating cages and nets with anti-fouling coatings, based on Norwegian technology.
A HDPE floating cage has three main parts: a frame, net and anchor. The frame is a buoy made of HDPE pipes and has either a round or square shape.
The floating cages can endure winds and waves, are easy to move, and can breed a large quantity of fish. They are convenient for checking and harvesting fish.
The floating cages are located in sea areas that are located far from shore and have clean water, preventing pollution and disease among fish.
Nguyễn Huy Hải, who has five such floating cages for breeding 25,000 pomfret and 5,000 cobia on the Chà Và River in Long Sơn Commune, said he had used this type of floating cages for two years.
Each floating cage has a perimeter of 100m and a depth of 4 – 6m.
The large perimeter allows the fish to swim and eat comfortably so they can grow faster, he said.
The profit from breeding fish in HDPE floating cages is higher than that of traditional wooden floating cages.
The cost of a HDPE floating cage is about VNĐ210 million (US$9,000), but it can be used for up to 30 years.
Many farmers own nets treated with antifouling coating to inhibit the build-up of marine organisms on the nets. Nets are coated with antifouling paint by dipping and drying.
Phan Hoàng Sơn, who breeds fish in floating cages on the Chà Và River, has used the coated nets for six months.
"Previously, I had to change and clean normal nets every week and this took much time and labour costs. With coated nets, the cleaning is easier," Sơn said.
With coated nets, fish breeders have to change nets for cleaning every one to four months, he said.
Nguyễn Hữu Thi, head of the province's Fisheries Sub-department's Aquaculture Management Division, said the use of HDPE floating cages and anti-fouling coating nets have had positive results.
The use of anti-fouling coated nets helps fish breeders cut the pollution in the water in floating cages and nearby environment.
Bà Rịa-Vũng Tàu has zoned its cage aquaculture in three main areas - the Chà Và River, the Dinh River in Vũng Tàu City's Ward 12 and the Mỏ Nhát River in Phú Mỹ Town.
Last year the province had 11,361 floating fish cages, according to the province's Department of Agriculture and Rural Development.
To develop cage aquaculture, the department has warned fish farmers to pay attention to the quality of fish seed and market demand, and use advanced farming techniques to increase the quality of fish and other aquatic species bred in floating cages.
The department is also building a brand name for the province's fish bred in floating cages so they can be sold directly to wholesale markets and supermarkets. This would add more income for farmers.
Last year, farmers had good profits because of the high yield and price of fish and other aquatic species.
Favourable weather conditions and quality water resources contributed to the high yield of fish and other aquatic species bred in floating cages, according to the province's Aquaculture Management Division. – VNS