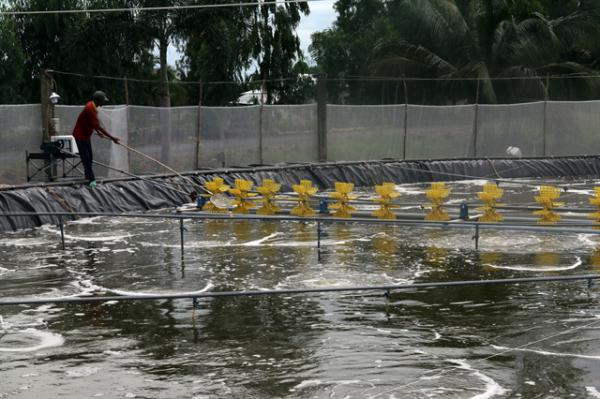 Breeding shrimp under the industrial farming model in Kiên Giang Province's An Minh District. — VNA/VNS Photo Lê Sen
KIÊN GIANG — The Cửu Long (Mekong) Delta province of Kiên Giang is encouraging farmers and companies to boost brackish water shrimp breeding.
It targets output of around 105,000 tonnes this year, up 7,000 tonnes from the target it set earlier this year.
The Ministry of Agriculture and Rural Development has written to major shrimp-breeding provinces and cities asking them to develop the breeding of brackish water shrimp this year.
The impact of COVID-19 has caused a significant decline in output in some major shrimp producing countries, which would cause a supply shortage in the coming months, the ministry said.
The province Department of Agriculture and Rural Development is strengthening advocacy activities to expand the farming of brackish water shrimp.
Quảng Trọng Thao, its deputy director, said the Fisheries Sub-department would co-operate with local authorities to inspect the breeding of shrimp and resolve problems, especially in the supply of breeding animals, feed and inputs for treating wastewater and diseases.
Province authorities would help farmers buy breeding animals to sustain supply chains, especially for seafood export processing plants, he said.
With a long coast of more than 200km, Kiên Giang Province possesses many advantages with regard to breeding brackish water shrimp in coastal areas.
Local farmers bred shrimp on 134,000ha as of the end of last month and harvested more than 73,450 tonnes in the year-to-date, up 11.5 per cent from the same period last year.
They use industrial farming, advanced extensive farming, shrimp - rice farming, and shrimp - forest farming models.
The country's largest rice producer had more than 98,000ha under the shrimp-rice farming model in the first half of the year. Farmers cultivate rice in the rainy season and shrimp in the dry season on the same fields.
It plans to breed a total of 136,000ha of brackish water shrimp this year.
But unfavourable weather conditions and the risk of disease outbreaks pose a threat. The COVID-19 pandemic continues to threaten a disruption in shrimp production and supply chains.
The department has instructed its sub-departments and units to help farmers cope with these problems if they arise.
The Animal Husbandry and Veterinary Sub-department should effectively monitor the water environment and promptly inform farmers about any disadvantages so that they can take measures to respond to them.
It has been told to strengthen the inspection of shrimp diseases to promptly control their spread.
It has been instructed to establish disease-free shrimp breeding areas and persuade farmers to apply bio-safety measures to ward off diseases.
Shrimp seed trading establishments should be carefully inspected to secure the supply of disease-free and high-quality seeds.
Its Agriculture Extension Centre should teach farmers effective breeding techniques and new advanced farming methods to help reduce production costs and improve output value.
The centre is encouraging farmers to join co-operatives and co-operative groups to better manage their shrimp farms and ensure origin traceability and outlets for their produce.
The province plans to grant traceability codes to all households breeding brackish water shrimp by the end of this month to meet the requirements of importers but also manage shrimp farming better. — VNS