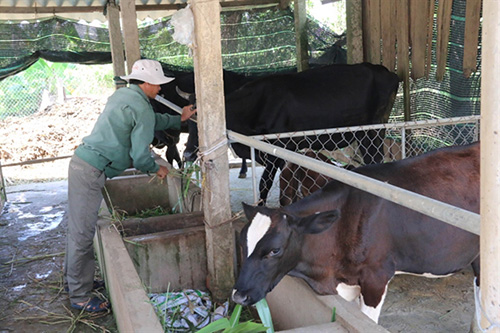 Breeding cattle in Tiền Giang Province's Chợ Gạo District. – VNA/VNS Photo Minh Trí
HCM CITY — Many provinces in the Cửu Long (Mekong) Delta have developed dairy and beef farming since it provides farmers with an additional income and benefits from local agricultural by-products.
The delta, the country's largest rice producer, produces large quantities of by-products, including rice straw for feeding cows.
In Trà Vinh, the province Department of Agriculture and Rural Development is encouraging farmers to breed cattle for meat and calves this year since there are huge volumes of agricultural by-products available locally and beef prices are high.
The price of beef cattle on the hoof is VNĐ180,000 – 190,000 (US$7- 8) a kilogramme. At these prices, farmers earn a profit of 50 per cent within one year.
Nguyễn Văn Son in Long Sơn Commune in the province's Cầu Ngang District has stopped breeding pigs because of volatile pork prices and disease outbreaks and instead has four heads of cattle.
At current prices, he is expected to earn VNĐ7 million ($300) per animal.
According to Nguyễn Ngọc Hài, deputy director of the department, the province produces large quantities of by-products like rice straw and peanut and corn plants.
It has large tracts of lands which are not suitable for growing rice or other crops but can be used for growing grass for feeding cattle.
Trà Vinh has more than 200,000 head of cattle, 20 per cent more than a year ago.
In Tiền Giang Province, cattle breeding has developed in coastal districts like Chợ Gạo, Gò Công Đông, Gò Công Tây, and Tân Phú Đông where farming has been impacted by climate change.
Farmers in these coastal districts have also adopted the garden – pond – animal pen model to breed cattle and fish and grow crops on their land.
The province has nearly 119,000 head of cattle which are an important source of income for farmers and help mitigate rural poverty.
The delta had 748,000 cows last year, an increase of 21,600 from 2017, according to the General Statistics Office.
Support
The delta provinces have undertaken several projects to breed cattle for meat, milk and calves.
In Long An Province, the People's Committee has decided that rice, dragon fruit, vegetables, and beef will be the key products for using hi-tech techniques.
It seeks to set up a hi-tech cattle breeding area to raise more than 5,000 head for beef in Đức Hòa and Đức Huệ districts by next year.
The districts will establish at least 10 co-operative groups and co-operatives with a total of 300 household members to raise beef cattle using hi-tech farming techniques.
The province has established 10 hi-tech beef farming models based on Vietnamese good animal husbandry practices (VietGAHP) standards.
According to Võ Thanh Quang, director of the Hòa Khánh Đông Commune Beef Cattle Breeding Co-operative in Đức Hòa District, the co-operative has 16 members who raise 182 head of cattle.
Local authorities have created favourable conditions for the development of the co-operative, and its members' awareness of hi-tech husbandry techniques has improved.
But the co-operative faced difficulties including lack of resources and poor management.
Sóc Trăng Province launched a project to raise dairy cattle in 2014, helping farmers improve their incomes, especially Khmer farmers in rural and remote areas.
Participants have been supported with soft loans for building cow sheds and buying grass cutting and milking machines.
They are also taught how to make grass and corn silages, stored rice straws and build bio-gas tanks for treating cattle waste.
There are 124 farmer groups with nearly 3,000 members participating in the project.
Their incomes have increased from VNĐ43 million ($1,850) per household per year in 2014 to VNĐ132 million ($5,680) now.
Sơn Hang, a participating farmer in Mỹ Xuyên District's Tham Đôn Commune, said thanks to the project, the number and quality of his dairy cattle had increased.
"My family's income has improved significantly after participating in the project."
Sóc Trăng had nearly 9,500 dairy cattle cows as of early this year, mostly in Châu Thành, Mỹ Xuyên, Trần Đề, and Mỹ Tú districts.
Phạm Minh Tú, head of the Mỹ Tú Animal Health and Animal Husbandry Station, said through the project the district had developed many models related to cattle breeding, including for growing grass, processing food for the animals and protecting the environment. VNS