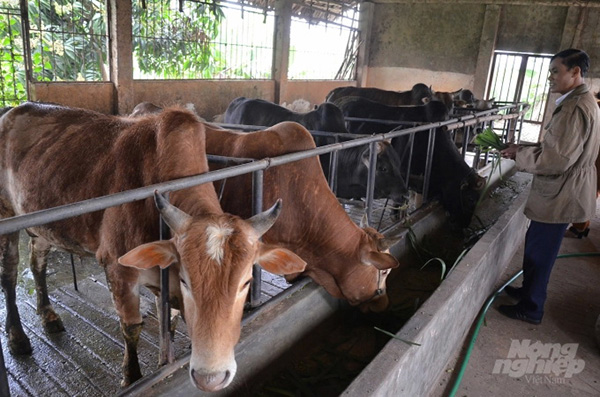 The Vietnamese yellow cattle in Mr. Khanh's farm. Photo: Duong Dinh Tuong.
(VAN)- The Vietnamese yellow cattle that seemed to have gone extinct because it was small, slow growing, and thus eliminated, now has been suddenly hunted for high prices by Chinese traders.
Among indigenous animals, the yellow cattle is probably the most unlucky one. In the trend of favoring exotic breeds or crossbreeds for higher productivity, other delicacies are still chosen, except for the Vietnamese yellow cattle.
There was a time when Vietnamese cattle were eliminated by localities in order to increase the rate of foreign blood, typically Vinh Phuc's policy encouraging people to clamp "skinny cattle" testicles to sterilize them. In just two years time, almost all of more than 10,000 Vietnamese cattle here were castrated and Sind bulls were imported instead.
Even Ba Vi district, which is so famous for its yellow cattle breed is now losing its breed.
Buying skinny cows and then fattening them for sale, Mr. Nguyen Xuan Khanh from Bai Gia hamlet, Phu Chau commune, Ba Vi district, said that there are no longer "skinny cows" in the lowland provinces. There are some in Son La province or as far as Laos, where people still graze them because they can endure harsh conditions.
In each "hunting" trip as such, Mr. Khanh often bought 5-7 cattle. Normally, a 1.5 quintal beef cattle that costs VND 18 million only has about 65kg of meat.
But after three months fattening with a diet of young grass, corn, bran, yeast, and salt, they weigh 2.4 quintals, equivalent to more than 1 quintal of hooked meat, sold for 24-25 million to Chinese traders, which is very profitable.
The transaction method is very simple, farmers just need to send photos and quote via zalo to the border traders. Since Tet, traders have been ordering this type of cattle.
Favored by China for its good lean meat
Mr. Khanh commented: "After fattening, Vietnamese beef cattle with 24 teeth (2-3 years old) has thin skin and very delicious lean meat. The Chinese only like to import this type of beef cattle from Vietnam. The selling price at their market can reach up to VND 350,000.
However, the selling is quite unstable due to the Covid-19. They have to sell cattle to Vietnamese traders for only VND 270,000/kg like other crossbred cows."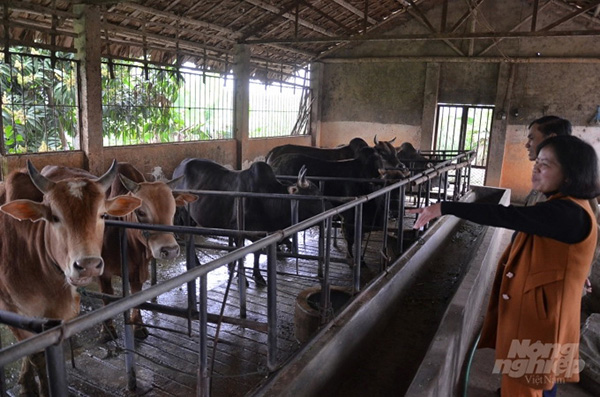 People visiting Mr. Khanh's cattle rasing farm. Photo: Duong Dinh Tuong.
Mr. Khanh said regretfully: "If we develop a brand for the Vietnamese beef cattle, like the Japanese did with Kobe beef, we can sell them for VND 350,000 - 400,000/kg. The profits are really good, because although the breed is slow to grow, in the fattening period thay can gain 1kg/day. Each year we can raise 3 litters like that. We just wish that businesses would bring beef to restaurants and supermarkets for the rich to enjoy the specialties!".
Mr. Le Dinh Thao, Chairman of the Farmers Association of Phu Chau commune, said that at present there are more than 10 households raising this type of beef cattle but only two are large-scale, the rest only have from 5-10 heads on average due to limited capital and land.
According to Ms. Do Thi Thu Thuy, an officer of Ba Vi Agricultural Extension Station, the Vietnamese cattle can adapt well with harsh conditions, have good quality meat, but small in size, slow in growing, so they were almost eliminated.
At present, of more than 32,000 cattle in Ba Vi district, 9,700 are dairy cows, and the rest are crossbred beef Sind and BBB. Households that still raise beef cattle like Mr. Khanh are just fattening but not raising this breed. Therefore, a huge potential for both domestic and export markets is still left open for the Vietnamese cattle.
Vietnamese yellow beef cattle originated from many breeds of neighboring countries, mainly China and India, raised by farmers for meat and traction, once abundant in Lang Son, Ha Giang, Thanh Hoa, Nghe An, Phu Yen, Ninh Thuan... Their most common feature is their yellow or cockroach-colored feathers, small stature, cows 160-200kg and bulls 250-300kg, short body, flat buttocks, flat chest.
Author: Duong Dinh Tuong
Translated by Meagan Phan