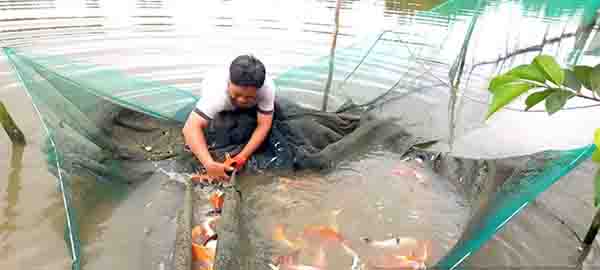 Trần Ngọc Duy is checking his koi fish. Photo danviet.vn
HCM CITY — Many farmers in Bình Chánh District of HCM City have switched to raising ornamental Japanese koi fish in saline water in recent years.
Trần Ngọc Duy in An Phú Tây Commune, who used to be a winery worker on meagre wages, has got rich from raising the ornamental fish.
Duy started farming koi fish more than 10 years ago. At that time, few farmers were raising koi fish.
On a piece of land belonging to a suspended project on which nymphs and wild plants grow luxuriantly in An Phú Tây Commune, Duy cleared ground and dug five ponds with a total water surface area of 10,000sq.m to raise the koi.
"When I first learned about koi farming, I thought raising the 'million-dollar fish' in an alum pond would be unwise," Duy said.
"But, according to many fish farmers, pond farming gives the best quality koi."
According to Duy, every year, he sells 2.5 tonnes of fish with an average price of VNĐ200,000 (US$8.7) per kilo and earns a yearly profit of VNĐ500 million ($22,000).
"I earn well from koi fish farming," he said.
At present, the two communes of An Phú Tây and Bình Lợi have the most koi farms in Bình Chánh District.
Farmed koi in An Phú Tây Commune have good colour and shape, but not in weight, while the fish in Bình Lợi Commune farms grow fast, but the colours and shapes are less beautiful, Duy said.
Therefore, the price of koi fish from Bình Lợi Commune is usually lower than from An Phú Tây Commune.
In Bình Lợi Commune, koi is only sold from VNĐ200,000 to 220,000 per kilo.
Meanwhile, the price of koi in An Phú Tây Commune is sold at many different prices depending on fish size and colour.
Raising koi fish is like raising fish for food. The nurturing process is also similar.
Koi often get sick at the beginning of the rainy season due to unsafe water sources. And the fish often get fungal and intestinal diseases. Therefore, farmers have to buy medicines to increase their resistance for about one week before the first rain of the season.
The difficulty of raising koi fish is to rear fingerlings. Duy said that the success rate for raising fingerling fish is only about 30-40 per cent.
The koi fish breed is sold after five months of being raised.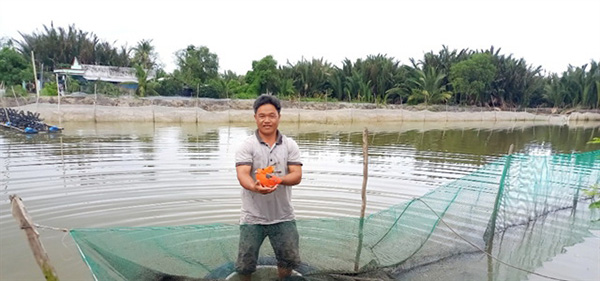 Trần Ngọc Duy shows an adult fish. Photo danviet.vn
"For each 2,000sq.m pond, I only stock about 2,000 koi. I keep the fish in sparse density so that they can grow fast and have beautiful shapes and colours," Duy said.
The more significant the farmed koi fish, the higher the revenue.
However, koi fish raised in An Phú Tây Commune stop growing when reaching a maximum weight of 1.7-2kg per fish.
"When breeding, farmers chose beautiful and large fish for breeding, so they often end up with inbreeding, which gradually leads to the deterioration of the breed seed source," said Duy.
However, like other koi fish raisers in Bình Chánh District, Duy's farm has been facing output difficulties since the pandemic broke out.
"Fish have been selling very slowly. Traders are very few," he said.
In addition to the slow-selling fish, the rising cost of materials and koi food is also causing difficulties for koi farmers. He hopes that his business will be back to normal by the end of this year when the pandemic is better controlled. — VNS