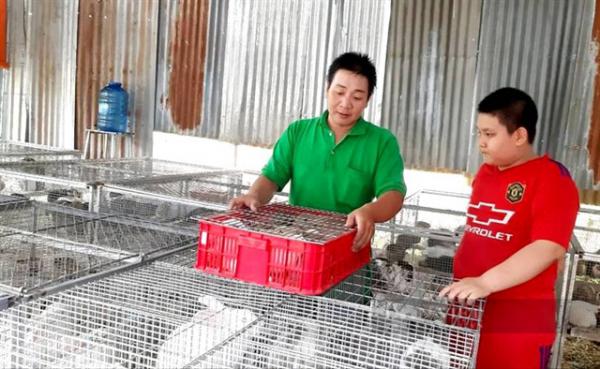 Phúc's rabbit farm in Long Bình Điền Commune has over 4,500 rabbits. — Photo thegioitiepthi.vn
TIỀN GIANG — Đặng Hồng Phúc was one of the first large-scale rabbit breeders in Chợ Gạo District, in the Mekong Delta province of Tiền Giang, turning to them after failing to make ends meet in raising other livestock.
Rabbits raising has proved to be a valuable income to Phúc, 37, as demand from restaurants has grown.
Phúc's rabbit farm in Long Bình Điền Commune has over 4,500 rabbits. On average, his farm sells about 120 rabbits each day with a total weight of more than 300kg of meat - worth about VNĐ20 million.
Phúc said that in the past, his family tried raising chickens, ducks, pigs, and goats, but the profits never materialised in the same way.
Seven years ago, he went to Đồng Nai Province. Realising rabbit meat was popular in the market, Phúc decided to raise rabbits himself.
He went to Vĩnh Phúc Province in the north to buy baby rabbits, buying just 20 rabbits at first.
He said: "The rabbits are easy to raise - their main source of feed is vegetables, which are locally available and not too costly. A female rabbit has an average five babies after 45 days."
A ready-to-sell rabbit has an average weight of 2.3kg with prices of VNĐ70,000/kg. Baby rabbits can be sold after four months, once they weigh over 2kg, according to Phúc.
Realising the potential of the market, a year later Phúc invested in expandable cages for more than 1,000 rabbits.
"I have expanding cages and installed ventilation and cooling systems, so the rabbits can develop well," he said.
While not only bringing high economic efficiency for the family, Phúc's farm provides quality baby rabbits to local breeders. He is happy to share his breeding experiences, and provide support loans to local breeders who want to start in the business.
However, he said, when expanding the scale of rabbit farm, he had to look for customers in the southern provinces and the Central Highlands.
His business was growing thanks to the number of restaurants he was supplying, so Phúc decided to become the purchaser from local rabbit breeding households.
He connected with farming households to set up a system with him as the focal point, responsible for providing baby rabbits, technology, materials for cages, feed and product consumption.
In addition to selling meat rabbits, Phúc also sells rabbits as house pets to traders, and while the requirements for nursing and technology are higher, the economic value of each rabbit also increases.
"After seven years of raising rabbits, my family has a stable income", he said.
All 30 rabbit-breeding farms in Phúc's breeding system run efficiently. Raising rabbits is more stable than chickens or pigs in general.
"Since switching to rabbit farming, local households in the system have all become better off and everyone is happy," Phúc said.
According to senior officials at Long Bình Điền Commune authorities, the rabbit raising model of Phúc was one of the typical household examples in the area.
A senior official said: "It is learned by many people. Currently, Phúc's model is opening a new direction for many households, so the authorities are also very supportive." —VNS