Headline:
Hupha-Colimox
Category: Products » Oral powders, |
Read: 3503 |
Print
| Text size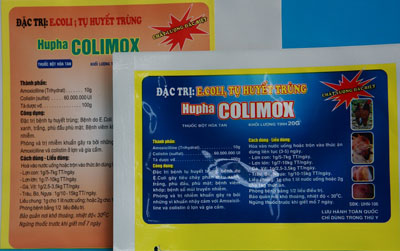 Classification: Powder - Drug Package
Ingredients:
- Amoxicilline.
- Colistin.
- Excipients.
Uses: Prevention and treatment of bacterial sensitivity and amoxicilline With Colistin in gastrointestinal, respiratory, blood infections, genital, urinary: E.coli, white feces, manure, fertilizer viscous, yellow stool, haemorrhagic septicemia, pneumonia, paratyphoid, typhoid, dysentery, diarrhea, gastro-intestinal and foodborne infections, the disease continues to develop, as with viral ... in livestock and poultry. .
Updated: 10/25/2014
Source Huphavet
Other products...