Headline:
Hupha-Eflox 20
Category: Products » Oral powders, |
Read: 3480 |
Print
| Text size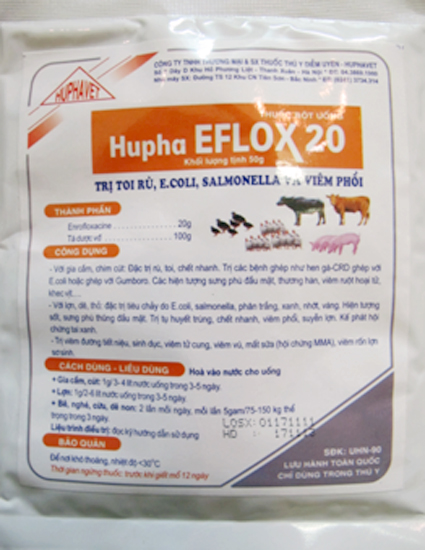 Classification: Powder - Drug Package
Ingredients:
- Enrofloxacine.
- Excipients.
Application:
- Poultry, Quail: DAec treatment Ru toi, die quickly. Treatment of diseases such as asthma, whooping-CRD graft transplant with E. coli or merge with Gumboro. The first phenomenon facial edema swelling, typhoid, necrotizing enterocolitis, khec duck.
- Pigs, goats, rabbits: DAec treat diarrhea caused by E. coli, salmonella, stool white, green, slimy, yellow. The phenomenon of fever, edema swelling of the face first. Treatment of haemorrhagic septicemia, die quickly, pneumonia, asthma pigs. Next play blue ear syndrome.
- Treatment of urinary tract infections, genital, metritis, mastitis, milk loss, inflammation of the umbilical neonatal pigs.
Updated: 11/04/2014
Source Huphavet
Other products...