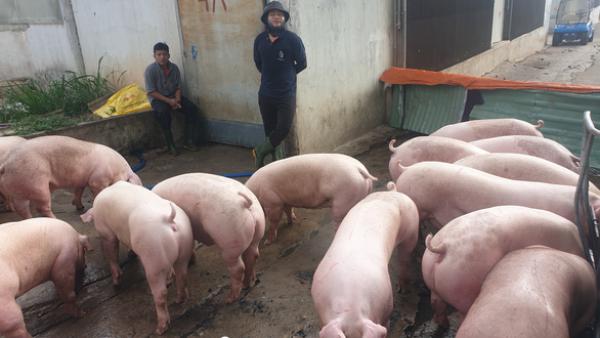 Pigs are farmed in Vietnam. Photo: Nguyen Tri / Tuoi Tre
The ongoing increase in prices of bran poses difficulties for breeders, putting them at risk of great losses, livestock breeding associations have warned.
Many feed companies announced a rise in bran prices in late April and early May, the thirteenth or fourteenth hike since late 2020.
In a notice sent to its customers, MNS Feed Company Limited said that it has increased the prices of its bran products by VND300-500 (US$0.013-0.021) per kilogram since May 1, effective for the southern region.
Similarly, De Heus Company Limited has announced a rise of VND300-400 ($0.017) per kilogram for most bran types since early May, applied to clients from north-central Quang Tri Province to the southernmost province of Ca Mau.
Many other feed enterprises, such as Emivest Feedmill Vietnam Company, C.P Vietnam Livestock JSC, Greenfeed Vietnam Corporation, CJ Vina Agri Co. Ltd., and more have also confirmed a hike of VND300 to VND400 per kilogram for most bran products.
The price of bran has gone up by over VND6,000 ($0.26) per kilogram since late 2020, causing a 25kg bag of bran to become VND125,000 ($5.42) more expensive.
"Feed accounts for 70-80 percent of the total cost of livestock breeding, so if the price of bran continues to rise and the selling price of pigs remains low, farmers will suffer great losses," said a large breeder, calling himself Thang, who once delivered 1,000 pigs per month, in southern Dong Nai Province.
As a result, the cost of raising pigs for meat has now surged to VND56,000-60,000 ($2.43-2.6) per kilogram, while live pigs have fetched only VND54,000-57,000 ($2.34-2.47) per kilogram, Nguyen Kim Doan, deputy chairman of the Dong Nai Livestock Association, told Tuoi Tre (Youth) newspaper.
Similarly, the continuous increase in bran prices has pushed the cost of raising broiler chickens from VND27,000 ($1.17) to VND28,000 ($1.21) per kilogram, much higher than previous levels, many chicken farmers have lamented.
Chicken raisers face huge losses as breeding costs continuously go up, exceeding the selling prices, Le Van Quyet, deputy chairman of the Southeast Poultry Breeding Association, warned.
"Frequently suffering losses, many small-scale breeders have stopped re-herding livestock, leading to their share accounting for only 10-15 percent of the total supply, with the remainder belonging to larger players," Quyet said.
Vietnam currently produces merely 35 percent of animal feed for the domestic market while the rest is imported, said Tong Xuan Chinh, deputy director of the Animal Husbandry Department under the Ministry of Agriculture and Rural Development.
More and more Vietnamese and foreign enterprises invested in animal husbandry in Vietnam, including Masan, Dabaco, Tan Long, Truong Hai, Hoa Phat, CP, Cargill, Deheus, and Japfa Comfeed, among others, the department said.
So far, Vietnam's livestock industry has contributed 25.2 percent to the revenue of the agricultural sector, according to the ministry.
Vinh Tho – Nguyen Tri / Tuoi Tre News