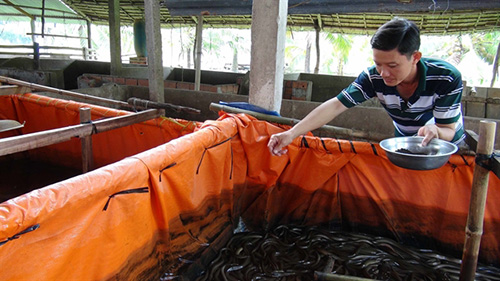 Breeding eels in tanks in Trà Vinh Province's Tiểu Cần District. The province in the first half of the year has seen an increase in profits from aquaculture. – VNA/VNS Photo Thanh Hòa
TRÀ VINH – Super-intensive white-legged shrimp farming areas have expanded threefold over last year after bringing in high incomes for farmers in the Cửu Long (Mekong) Delta province of Trà Vinh.
More than 400 households in the coastal areas of Cầu Ngang, Trà Cú and Duyên Hải districts and Duyên Hải Town are breeding the shrimp under super-intensive methods on a total area of 227ha, according to the province's Department of Agriculture and Rural Development.
Cầu Ngang accounts for the largest area, with more than 55ha, up 9ha against last year.
Lê Văn Phi, deputy head of the Cầu Ngang Agriculture and Rural Development Bureau, said that more shrimp farmers had invested in the model this year because it had brought much higher profits than other models.
The super-intensive model, begun in 2017, was implemented with the cooperation of shrimp farmers and C.P. Việt Nam Corporation.
The company showed farmers how to install equipment to provide oxygen for ponds, and gave instructions on feeding methods and breeding density.
Farmers harvested 50-55 tonnes of shrimp per hectare a year and earned a profit of VNĐ2 billion (US$86,147), up three times compared to intensive farming.
However, the super-intensive model requires a high initial investment of VNĐ3 billion ($129,182) per ha as farmers have to build breeding ponds, wastewater containing ponds and wastewater treating ponds.
They also have to buy material inputs such as anti-sunlight nets to cover shrimp ponds, plastic sheets to cover breeding pond beds, oxygen supply equipment, automatic feeding machines, medicines, food and shrimp fries.
Under super-intensive farming, farmers breed 150-170 shrimp per square metre.
A large area is needed to build a pond system for this type of farming, according to Phan Văn Hận, who was one of the first farmers in Cầu Ngang District's Mỹ Long Nam Commune to breed shrimp.
Since white-legged shrimp are fed by automatic feeding machines, food residue does not remain for a long period in ponds, according to Hận.
With the method, the size of shrimp is more uniform and the yield is two to three times higher than in intensive farming.
Because of the need for high investment and advanced farming techniques, the department has told farmers to practise super-intensive farming in zoned areas only.
Aquatic output
In the first half of the year, the province bred and caught more than 86,800ha of aquatic species, up 17 per cent against the same period last year, according to the department.
Of the figure, 47,430 tonnes are from farming, up 9,500 tonnes against the same period last year.
Phạm Minh Truyền, the department director, said the province's aquaculture output rose because more farmers living in freshwater, brackish water and saltwater areas were engaged in super-intensive farming, and were following breeding schedules.
The province's shrimp output increased, but the price of shrimp had fallen to about VNĐ10,000 a kilogramme since the beginning of the year, he said.
Shrimp farmers had been encouraged to rotate breeding shrimp and other high-value aquatic species such as mud crabs and blood cockles to ensure stable incomes.
Farmers could harvest about 1 tonne of mud crabs per ha a crop and earn a profit of about VNĐ300 million ($12,916).
The province, one of the delta's largest mud crab producers, bred about 13,000ha of mud crabs each year over the past five years.
The output is expected to increase this year as many shrimp farmers have switched to rotating shrimp and mud crabs in shrimp ponds, according to the province's Fishery Sub-department.
Mud crabs are bred mostly in Châu Thành, Cầu Ngang, Duyên Hải, and Trà Cú districts and Duyên Hải Town. They are sold locally and exported.
The province's farmed aquatic species are mostly shrimp, snakehead fish, mud crabs, blood cockles, eels and mangrove clams.
The farming of mangrove clams in coastal areas has offered a profit of VNĐ600-700 million ($25,800-30,200) per ha this year, according to farmers.
Nguyễn Văn Mười in Cầu Ngang District's Mỹ Long Nam Commune said he had bred mangrove clams in mangrove forests for four years.
Mangrove clams eat natural food, so there is no need to buy food. The cost includes the purchase of mangrove clam seeds and nets to surround the farming area, he said.
Mười earns a profit of VNĐ70-80 million ($3,000- 3,440) per 1,000sq.m of mangrove clams.
The department has encouraged farmers, particularly those with low incomes, to breed mangrove clams in alluvial grounds and mangrove forests since bivalve molluscs require little investment and offers high profit. – VNS