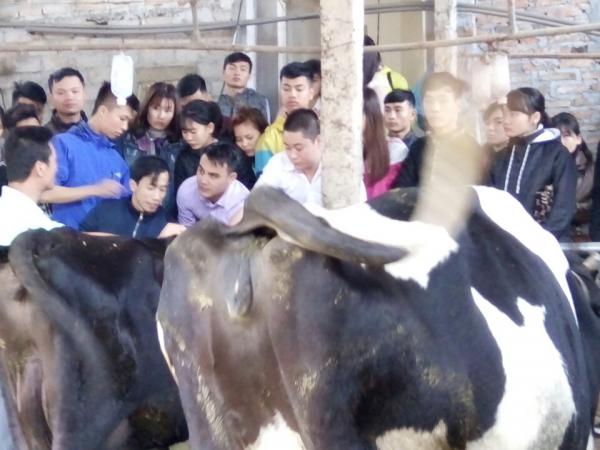 Young farmers are taking part in vocational trainings in big farms
For many years, Vietnam Farmers' Union (VNFU) at all levels nationwide have been actively disseminating and encouraging farmers to proactively participate in the emulation movement "Good farmers in production-business" associated with the movement "The whole country joins hands to build new rural areas" launched by the Prime Minister. The movements have been developed strongly in the country.
Thanks to the new management mechanism in production and the guidance of VNFU at all levels, most of the provincial and city FUs have opened a review meeting on the emulation movement of good farmers in production-business, eliminating hunger, reducing poverty and getting rich.

Many provinces such as Binh Thuan, Ha Tay, Ha Noi, Nam Dinh, Thai Binh, Dong Thap, Thanh Hoa, Nghe An, Phu Tho, Bac Kan, Thai Nguyen, Tien Giang, Ha Tinh, Quang Ngai, Lai Chau... organized contests on "Farmer competition", "Outstanding farmers", "Festival of farmers - young people doing good business" with some results achieved.

Through the contests, the movement has been developed strongly in both quantity and quality, members and farmers have raised their awareness about VNFU, the guidelines and policies of the Party, the State, scientific and technical knowledge, experiences in production, attracted a large number of members to join, created a joyful and exciting atmosphere among farmers, which have contributed to improving the role and position of VNFU.

Through the movement, farmers all over the country have been encouraged to strive for hunger eradication, poverty reduction and becoming wealthy properly; innovate their ways of thinking and action; exploit the potentials and strengths of capital, labor and land for production investment.

On an annual average, the number of farmers who registered to strive for the title of "Good farmers in production and business" increases by 16.7%, the number of households meeting the standards of good production and business households at all levels increased by 13.6% compared to 5 years ago. In 2018, the number of registered households accounted for 55% of the total number of farming households in the country (over 7 million households), of which, nearly 65% ​​of households (over 4.6 million households) were awarded the title of "Good farmer in production-business".

Many localities have a high number of registered and awarded "Farmers in good production and business farmers" households, such as Hanoi, Ho Chi Minh City, Thai Binh, Binh Duong, and Ba Ria - Vung Tau. Ships, Tien Giang...

Farmers increasingly widely apply scientific and technical advances into production, contributing to improving productivity, quality and value of agricultural products. Millions of poor rural households have overcome difficulties and strived to get rich and rightly, representing all the regions of the country, all fields of agriculture, forestry, fishery, salt production, small scale industry and services.

Good farming households in production and business at all levels have helped more than 220,000 poor households with agricultural materials, labor days and product consumption ..., which is worth over 15,000 billion VND, created local jobs for over 11 million workers, helped more than 100 thousand farming households to elimicate poverty and get wealthy, contributed to building tens of thousands of compassion houses, gratitude houses and helped over 1 million poor households to have more resources for production development.

The quality of the movements has been improved significantly: Over 2.2 million households have incomes of 100 million to under 200 million VND, over 775 thousand households have income of 200 million to under 300 million VND, over 505,000 households have income of 300 million to 1 billion VND, over 27 thousand households of over 1 billion VND, creating an increase of 5 times compared to the period 2007-2012.

In the movements, many typical and excellent practices have appeared, representing the hardworking and creative spirit, self-reliance and self-willness of the Vietnamese peasantry. For instance, Mr. Ha Tan Tam, farmer member of Thoi Thanh area, Thoi An ward, O Mon district, Can Tho city has a model of integrated farm- animal husbandry with an income of 13.5 billion VND per year; Mr. Nguyen Van Thanh, farmer member cum Chairman of Hoa My Livestock - General Service Cooperative, Van Thai commune, Ung Hoa district, Hanoi city with his closed high-tech pig farm model has an income of 8.2 billion VND per year on average; Mr. Nguyen Dang Cuong farmer member in Dong Dong rural area, Dai Dong Thanh commune, Thuan Thanh district, Bac Ninh province with the model of domesticating commercial duck – cultivation earns an annual profit of 4-6 billion VND; Mr. Le Quang Minh, a farmer member of Dat Do hamlet FU, An Lap commune, Dau Tieng district, Binh Duong province with the model of industrial tree planting combined with poultry farming gets an income of over 4 billion VND per year; Mrs. Dang Thi Diu, farmer member of Zone 7, Hai Hoa ward, Mong Cai city, Quang Ninh province develops a model of 10 hectares of raising vannamei with industrial methods and its turnover is 12 billion VND per year, the profit is 3 billion VND per year...

In addition, there are many examples of peasants who are passionate on researching, exploring, innovating with a lot of inventions on breeding plants and animals, manufacturing of agricultural machines, applying new scientific and technological advances into agricultural production, which help to get high economic efficiency, save time and labor costs for farmers, such as Mr. Pham Van Hat, a farmer member in Ngoc Ky commune, Tu Ky district, Hai Duong province who researched and manufactured more than 12 farming machines to serve farmers, Mr. Pham Van Hung, member of the Farmers' Branch, Tan Xuan Hamlet, Tan Phu Commune, Tan Chau District, Tay Ninh Province, Mr. Nguyen Van Dung, Head of the Farmers' Union branch in Binh Phu hamlet, Binh Thuy commune, Chau Phu district, An Giang province who manufactured many types of machines for production, Mr. Bui Sy Toi, a farmer member of Trung Tam Farmer's Branch, Nam Bung commune, Van Chan district, Yen Bai province who manufactured suitable plows and harrows from motorized motor for terraced fields in the mountainous areas...

In order to implement the Party and State's Guidelines on building new rural areas and respond to the emulation movement "The whole country joins hands to build new rural areas" launched by the Prime Minister; VNFU Executive Commitee issued a Resolution on participating in the implementation of the National Target Program on New Rural Development in the period 2011-2020.

FUs at all levels have actively disseminated and encouraged their members, farmers to participate in the development of new rural areas with practical works.

The movement is the same as a revolution which have been attracting millions of members and farmers to respond and actively participate in and spread widely to every farmer; tens of thousands of family members and farmers voluntarily removed their fences and trees, donated 24.7 million m2 of residential land, family production land without compensation to pave the way, build public works in the countryside; contributed over two trillion VND, 29 million working days to repair and renew 1.2 million km of rural roads, 1.4 million km of intra-field canals, build low-voltage power lines, classrooms, kindergartens, preschools, health stations and thousands of cultural houses in communes, villages, hamlets for a more prosperous homeland.

Many contents of the New Rural Development Program have been implemented with initial results. FUs at many levels have registered to implement and undertake the criteria of new rural development in accordance with the operation, functions and tasks of VNFU together with local Party Committees and authorities.

Many branches and associations voluntarily undertake the construction, maintenance and maintenance of inter-village and inter-commune roads, constructing works and roads named Farmers' Association. The national target program on new rural construction has achieved many important results: From 2011 to 2017, the country has completed a 5-fold volume of sugar in the 2001-2010 period.

Many Farmers' Branches and profession groups voluntarily undertaked the construction and maintenance of inter-village and inter-commune roads, constructing works and roads named FU. From 2011 to 2017, the total accomplished roads of the whole country was 5 times higher than ones in the period of 2001-2010. As a result, 99.4% of communes across the country have motorways to the commune centers, especially in mountainous and complex areas such as Ha Giang, Cao Bang, Yen Bai, Thanh Hoa and Nghe An.
Besides, environmental pollution in rural areas, a serious issue in recent years has been intervented with many positive changes thanks to the increasing number of models of waste treatment, movements of landscape and people's living environment improvement such as flower and tree growing, eco- agricultural tourism... By the end of October 2018, nearly 3,600 communes and 55 districts have been recognized to meet the new rural standards.

The movement of farmers participating in the construction of rural infrastructure has facilitated trade promotion, production development, improved the people's material and spiritual life, which is contributing to economic and labor restructuring, attracting businesses for investment, socio-economic development,...

For the emulation movement of new rural development, many good practices have appeared such as: Mr. Tu Thanh Gia, a farmer member Lieu Tu commune FU, Tran De district, Soc Trang province who donated 7,500m2 of land, Mr. Do Quoc Truong, a farmer member of Thai Tri commune, Vinh Hung district, Long An province who donated more than 7,000m2 of land, Mr. La Van Hy, Ban Don II Farmers' Branch, Xuat Hoa ward, Bac Kan city voluntarily donated 1,900m2 of land; Mrs. Le Thi Kim Lien, a farmer member of Nhan Co commune, Dak R'Lap district, Dak Nong province who donated 1,800m2, Mr. Y Nhui, a farmer member of Piơng rural FU, A Dơk commune, Đăk Đoa district, Gia Lai province who donated 1,800m2 of land, Mr. Vu Van Nghia, a farmer member of Tan Thanh hamlet Farmers' Branch, Chau Duc district, Ba Ria - Vung Tau province who donated more than 400m2 of land to build rural roads and public works.

In the context of national renovation, many important achievements have been gotten in the farmers' movements organized and launched by VNFU with new advances in both contents and forms of gathering, attracting a large number of farmers to participate, bringing a great influence on social life, making an important contribution to the country's success.

Khanh Hai - Translated by Hong Linh