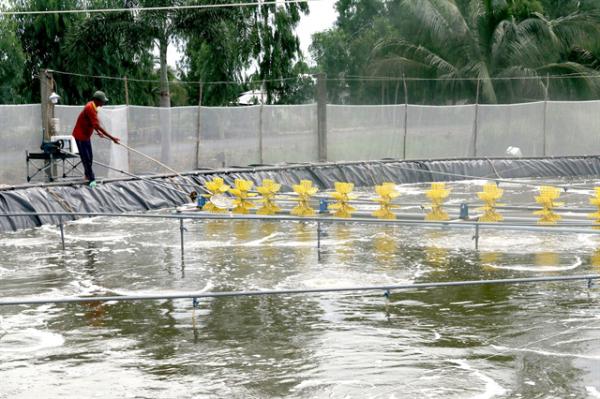 Shrimp bred under a two-stage farming model in An Minh District in Kiên Giang Province. The model requires multiple ponds for breeding the crustaceans and treating water. — VNA/VNS Photo Lê Sen
KIÊN GIANG — The Cửu Long (Mekong) Delta province of Kiên Giang is focusing on developing efficient, safe and sustainable shrimp farming.
It plans to have 145,440ha of brackish-water shrimp farms by 2030 that use semi-industrial and industrial, extensive and advanced extensive, and shrimp – rice farming techniques.
Quảng Trọng Thao, deputy director of the province Department of Agriculture and Rural Development, said the farms would be developed in the Long Xuyên Quadrangle, U Minh Thượng and Gò Quao with breeding models adopted to each place and adaptive to climate change.
Rice farming areas affected by saltwater intrusion for more than three months in a year would switch to rotating between shrimp and rice, he said.
The province would also switch from extensive and advanced extensive shrimp breeding techniques in places where they are ineffective to industrial and semi-industrial methods, he said.
To achieve these targets, it will reorganise shrimp farming towards developing value chains.
It will develop shrimp breeding co-operatives, co-operative groups and companies and create linkages with consumption channels to increase competitiveness, ensure origin traceability, protect the environment, and help adapt to climate change.
It will focus on developing semi-industrial and industrial shrimp farming and adopting advanced techniques to increase yields, save water, cut costs, protect the environment, and prevent shrimp diseases.
It will develop hi-tech shrimp farming area in Giang Thành and Kiên Lương districts and Hà Tiên City.
Vietnamese good agricultural practices (VietGAP) and ecological shrimp farming and other international standards will be applied to meet the requirements of import markets.
The province will strengthen investment in infrastructure for shrimp farming, especially irrigation, transport and power.
It will also strengthen monitoring of the shrimp breeding environment, disease prevention and environmental protection.
It will train people in shrimp farming, focusing on skills required by shrimp breeding companies, co-operatives and co-operative groups.
There are 10 companies that farm shrimp on a total area of 593ha.
The province has 128,860ha of shrimp farms, according to the department.
It harvested 38,690 tonnes in the first five months of this year, up 38 per cent from the same period last year.
Shrimp farming has been aided by favourable weather and water conditions this year and the price of the crustacean is high.
The province plans to breed a total of 140,000ha of shrimp with an estimated output of 108,700 tonnes this year, a marginal increase from last year, according to the department.
It is developing a 30ha industrial cluster specialising in seafood processing in Châu Thành District's Bình An Commune.
Organic farming
More farmers in Kiên Giang's coastal areas are rotating between shrimp and rice farming and earning sustainable incomes.
The Thạnh An shrimp crab rice farming co-operative in An Minh District's Đông Thạnh Commune farms shrimp and rice to organic standards on a total area of 130ha.
Nguyễn Văn Khánh, its director, said when the co-operative was established in 2016, its 13 members had combined holdings of 20ha, used traditional farming methods and had different schedules for their cultivation, and so got low yields and inconsistent earnings.
In 2017, the co-operative signed contracts with a company to supply organic shrimp and rice and the lives of its members have since improved, he said.
It now has 61 members who grow a total 130ha of shrimp and rice.
An Minh has 23,000ha under shrimp – rice farms and local authorities encourage farmers to grow organic rice to improve value.
Nguyễn Văn Tùng, deputy head of the An Minh Bureau of Agriculture and Rural Development, said shrimp – rice farming is the district's major farming model, and its rice yield is 4.5 – 5 tonnes per hectare per crop.
"We are determined to develop rice cultivation towards increasing its value."
Earlier this year, the Ministry of Agriculture and Rural Development decided to pilot shrimp – rice farming to organic standards on 500ha of land in An Minh and unveiled support policies for the model.
The district bureau is in the process of getting its organic rice recognised as an OCOP product under the country's 'one commune – one product' (OCOP) programme.
The province People's Committee has approved an outlay of VNĐ10 billion (US$430,000) for agriculture extension activities this year.
The activities include developing effective aquaculture models in coastal areas, rotating shrimp with rice, providing farmers with advanced farming techniques, and advocacy for increasing mechanisation. — VNS